Cheesecake is always a winning idea when you want to prepare a delicious dessert.
I would like to share with you my new recipe of the Pistachio Cheesecake.
Easy to cook (you do not even need the oven), pretty and with a deliocious taste. Among my favourite desserts.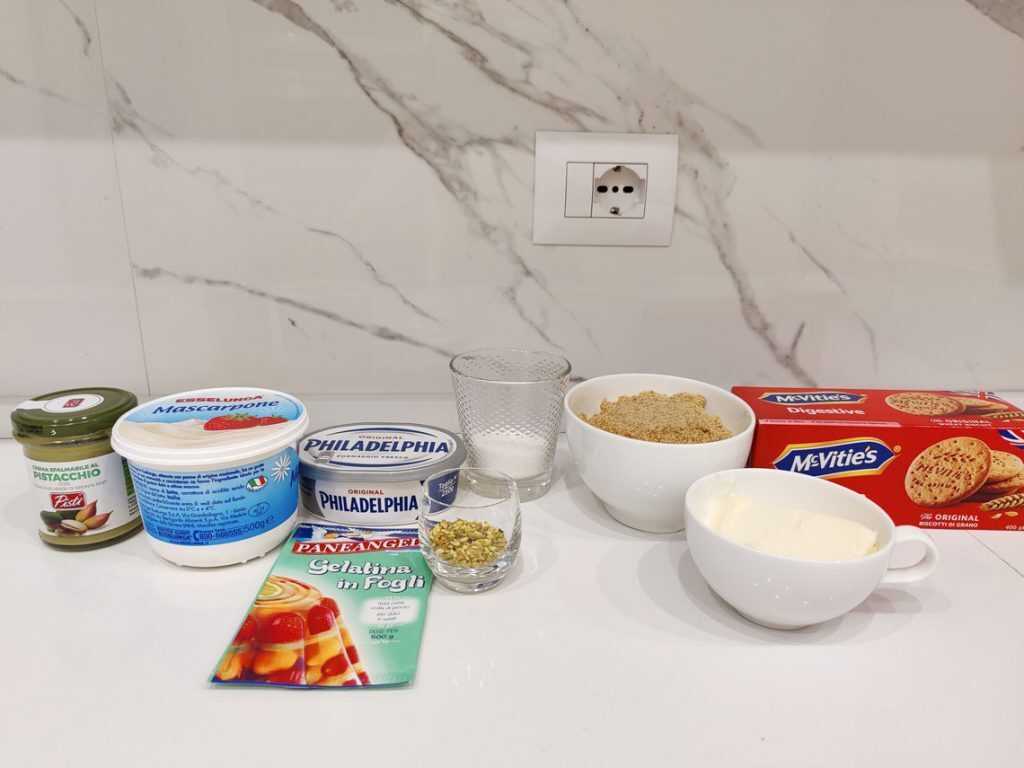 The following ingredients are meant for a baking tin with a diameter of 18-20 cm
Let's prepare the cookie crumb crust for the cake batter, you will need:
• 250 gr. shortbread cookies. I use 'Digestive' cereal cookies, quite common in Italy;
• 100 gr. of melted soft butter
Grind cookies into a crumb with blender, mix shortbread crumbs with soft butter. It is important to achieve the correct consistency, sometimes you have to add a little more cookies or butter.
Cover the bottom of the baking tin with parchment paper greased with butter. Press the mixture in the center of the form, I advice to use a spoon or glass to achieve a strong flat base. We put the baking tin in the refrigerator and in the meanwhile we start cooking the Pistachio cheese cream.
For the Pistachio cheese cream you will need:
• 10 gr. gelatin leaves;
• 500 gr. mascarpone cream;
• 250 gr. philadelphia cheese;
• 200 ml. cream;
• 50 gr. shugar;
•  a jar of pistachio cream (180-200 gr.);
• a handful of ground pistachios for decoration (100 gr.);
• white chocolate for decoration (50 gr.)
Initially soak the geltine leaves in a bowl of cold water for 10-15 minutes or untill soft. In the meantime mix with a mixer the mascarpone with 100 ml. of cream at low speed. (The other 100 ml. of cream we will use later for gelatin). Gradually add sugar and philadelphia cheese, mix everything very carefully until you achieve a homogeneous and delicate consistency.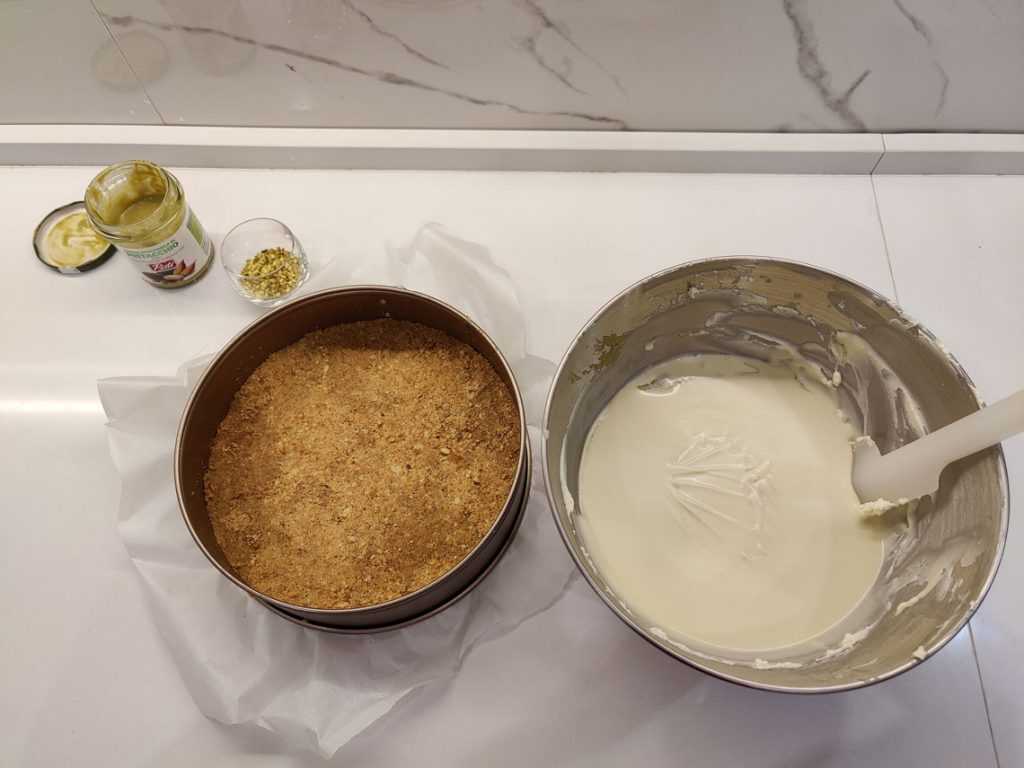 Squeeze well soaked gelatin out of the water. Put a saucepan with gelatin on a small fire and add the remaining cream (100 ml), warm gelatin with cream until dissolved, make shure it doesn't boil. Leave the gelatin to cool and add to the cream mixture that we prepared earlier.
The final touch is to add half jar of pistachio cream to our cheese cream consistency and mix carefully.
Put the half of cream cheese on the cookies base, add the rest of phistachio cream trying to distribute it over the whole cake, pour the rest of the cream cheese filling (watch the video below) and put everything into the refrigerator for a day.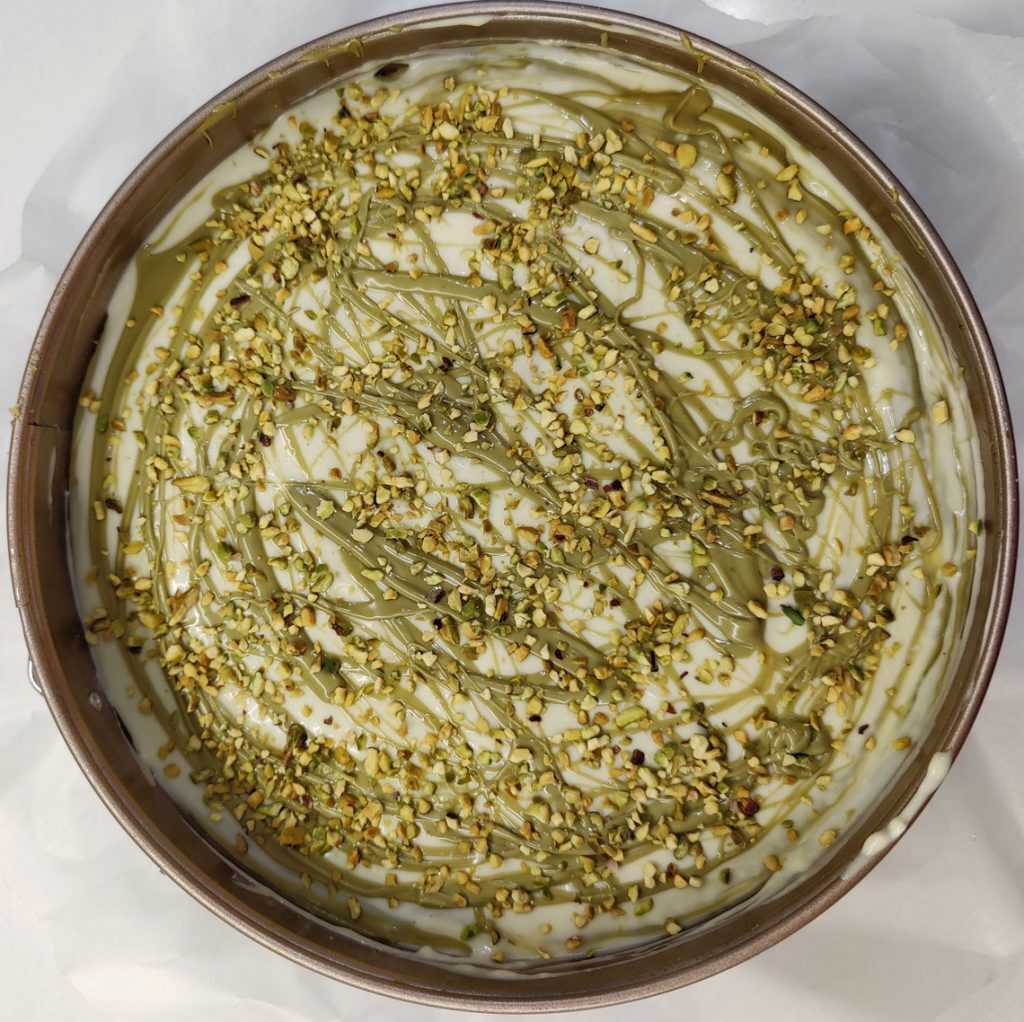 Your Pistachio Chesecake is ready!
Freely decorate with ground pistachios, white chocolate or raspberries. 😉