Milan is a city full of contrasts between the new and the old, the modern and the ancient. It happens very frequently to find contemporary architecture hidden behind a historic building and clearly the opposite too, a historical monument just behind a modern bulding.

This architectural dynamic is even more pronounced in some areas of the city, in particular in two very trendy districts: the futurist Quartiere Isola and the contemporary area of Porta Nuova, just few steps away from the popular streets such as Corso Garibaldi and Corso Como.
In the Italian language the term "Isola" means literally "Island",  this district has historically been called in this way because of its isolated position from the rest of the city, relatively disconnected from the city center. Milan has expanded in the meantime and nowadays the district can be reached in a short time. Recently Isola district has gained immense popularity due to the abundance of bars, restaurants, vintage stores, atmospheric streets with walls covered with street art.
It is a trendy area but still retaining some underground. Behind the modern buildings and the new glossiness, Isola still holds on its original quirkiness. I highly recommend you to visit it!
From Isola district, proceeding towards the center, we pass through the district of Porta Nuova.
This area literally popped up in a very short time with its hi-tech stores, arcades, bookstores, bars, pizzerias and night clubs. The heart is represented by the square Gae Aulenti that features a futuristic "walking island" lined with artificial fountains. From here you can enjoy a view of the skyline of the new city: the impressive residential building "Bosco Verticale" ("Vertical Forest" awarded as the most innovative skyscraper in the world in 2014), the Diamond Tower, Solaria, Unicredit Tower, Palazzo Lombardia and Palazzo Pirelli designed by Giò Ponti.
The last operation of redevelopment of the city has seen rise a new green urban space named "Biblioteca degli Alberi" that lliterally means "Library of Trees".
It is the third largest green area in the Center of Milan and represents a new kind of public park, a unique design of trails with irregularly shaped fields and with over 135.000 plants of 100 different spieces, some of them even rare.
Which places are worth a visit in the Isola district? Here my favorite spots:
The Ratanà Tavern
Very close the two residential towers of Bosco Verticale there is tavern quite popular among italians because of the original atmosphere and the extraordinary cuisine. A swanky restaurant that offers a modern version of traditional Milanese dishes. The menu varies according to the season, I have been there many times and the impeccable skill of the chef always surprised me.
Reviews on Tripadvisor
Official website
Wooding Bar
Unusual cocktails with "wild ingredients" for those who likes to experiment something new. The most original cocktails are based on selected ingredients from forest products like roots and herb and on weird algae. Where else could you taste the water that smells of forest fir?
Osteria Dal Verme
The traditional tavern Dal Verme tavern has been very popular ever since 1944 and it should not be overlooked. Home-style atmosphere, traditional northern cuisine and very large portions.
Reviews on Tripadvisor
Official website
The Frida 
Very popolar among young italians with a lively atmosphere, excellent drinks and dècor in a vintage-hipster style. Especially in summer it is a favourite spot for an evening drink in its magical courtyard.  Locals like to come here for its vintage boutique and for a tasty aperitivo.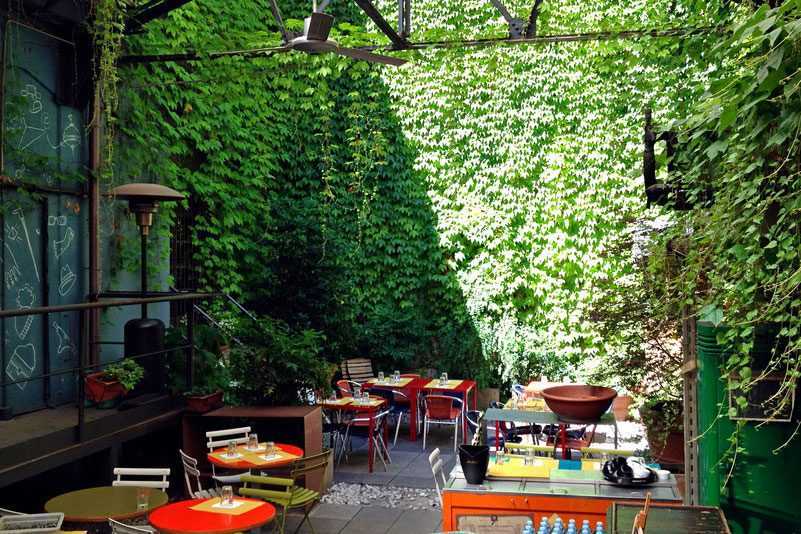 Reviews on Tripadvisor
Official website
Jazz club Blue Note
A jazz club and dining hall with star-studded evenings. Live music, italian and international kitchen and more than 200 varieties of cocktails and excellent italian wines.