With invitation code 77660078527627
The bustling city of Milan offers an endless variety of leisure activities, ready to surprise the most curious and to satisfy those with difficult tastes.
I have prepared a selection of unusual bars that stand out for their originality.
The best cool and quirky bars in Milan
Nottingham Forest for artfully prepared cocktails
For several years, due to its surprisingly original cocktails, Nottingham Forest Milano has been on the most important lists of the best cocktail bars in the world, including the prestigious "The World's 50 Best Bars".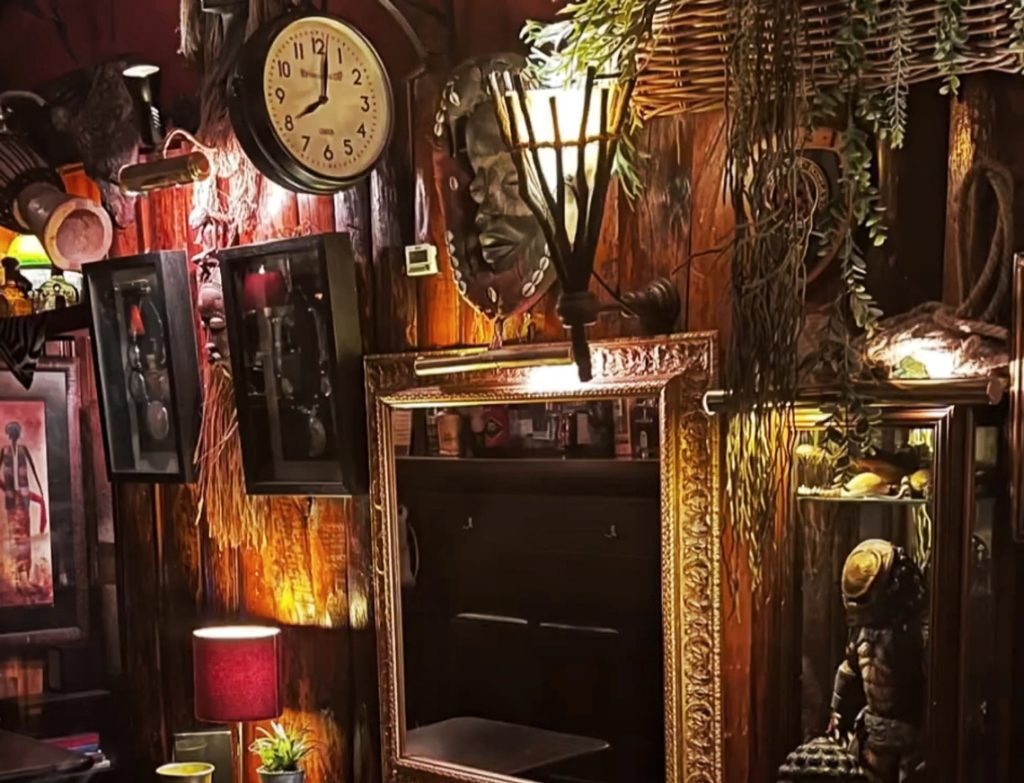 The Nottingham offers the most advanced expressions of molecular mixing with more than 500 eccentric cocktails recipes. Here every single ingredient is chosen with care and the preparation technique is maniacal. Every time you order a drink from the menu, you never know what you can expect.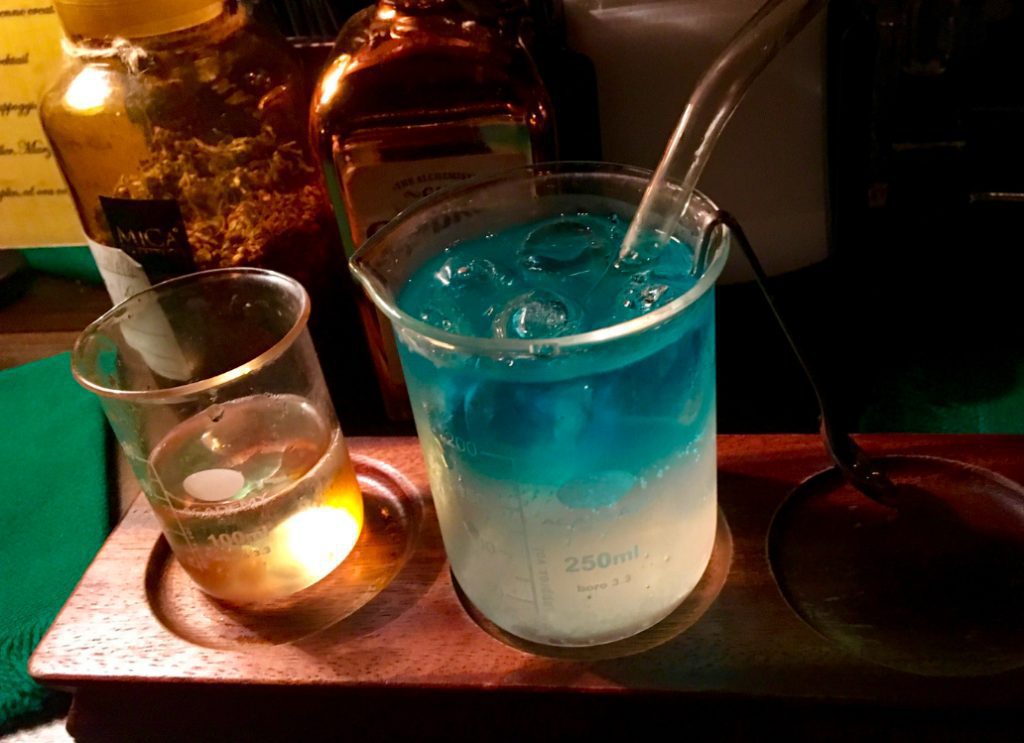 For example if you order a "Feng Shui Stone" you will literally find river stones at the bottom of the glass, marinated in alcohol and aromas.
When asking for "The Revenant" you will taste an ultrasonic extraction of oak in vodka served with insect eggs and pine resin.
The cocktail "La Sferificazione" contains a special molecular liquor that is hard on the outside and soft on the inside.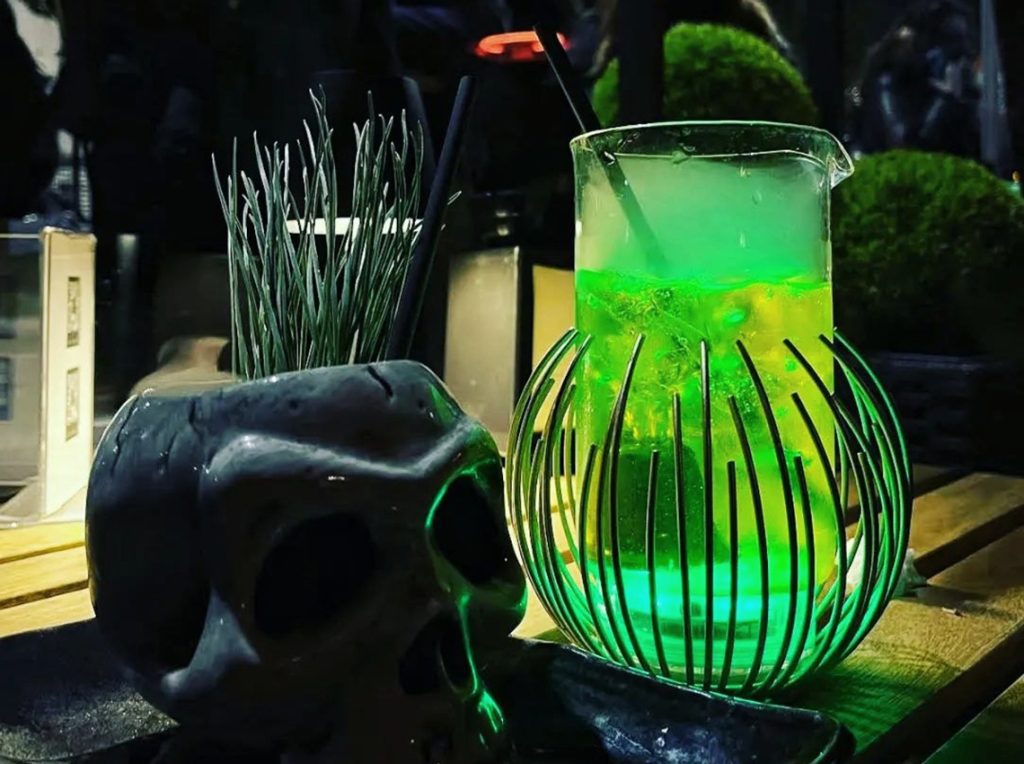 The place is quite small, no reservations are taken, just line up along with Milan's locals, it is worth it!
Nottingham Forest: Viale Piave 1, Milano
Crazy Cat Café for a cuddly break
If you love cats the "Crazy Cat Café" will give you a homely vibe. Here you can enjoy breakfast, lunch break or an aperitif receiving a dose of sweetness or having a cuddly break.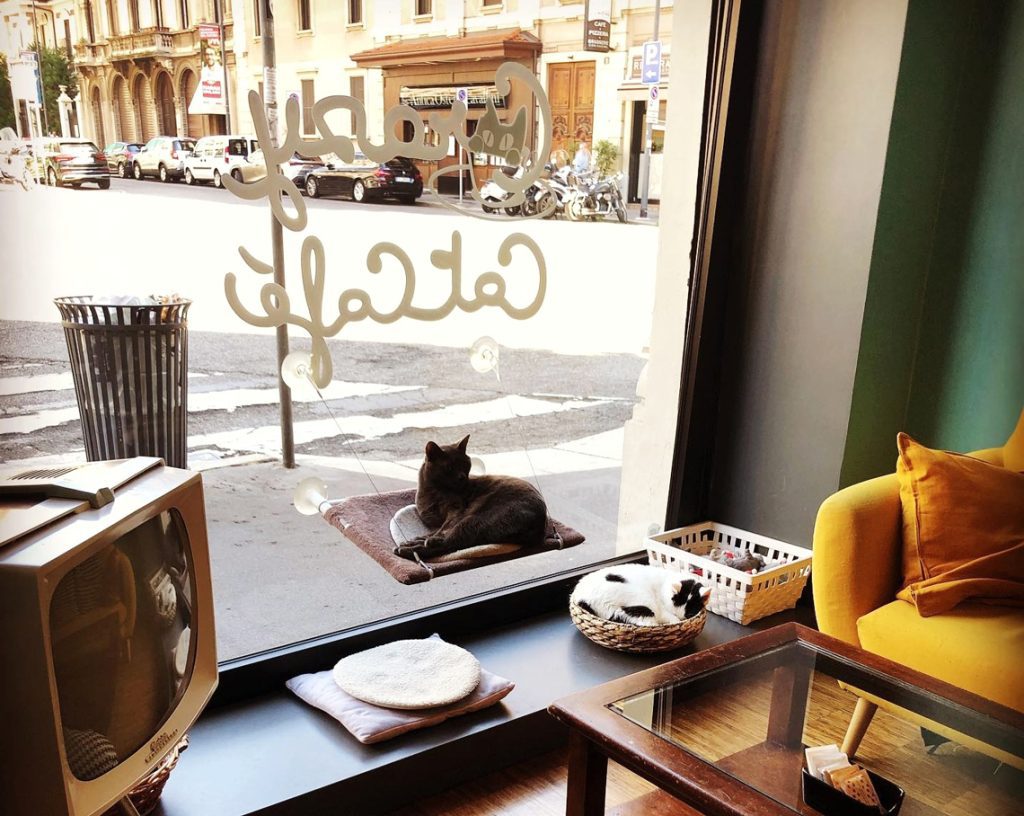 The café owners had the idea after visiting Neko café in Japan (neko in Japanese means cat) so they recreated the same atmosphere in Osaka but with the typical lifestyle of Italy.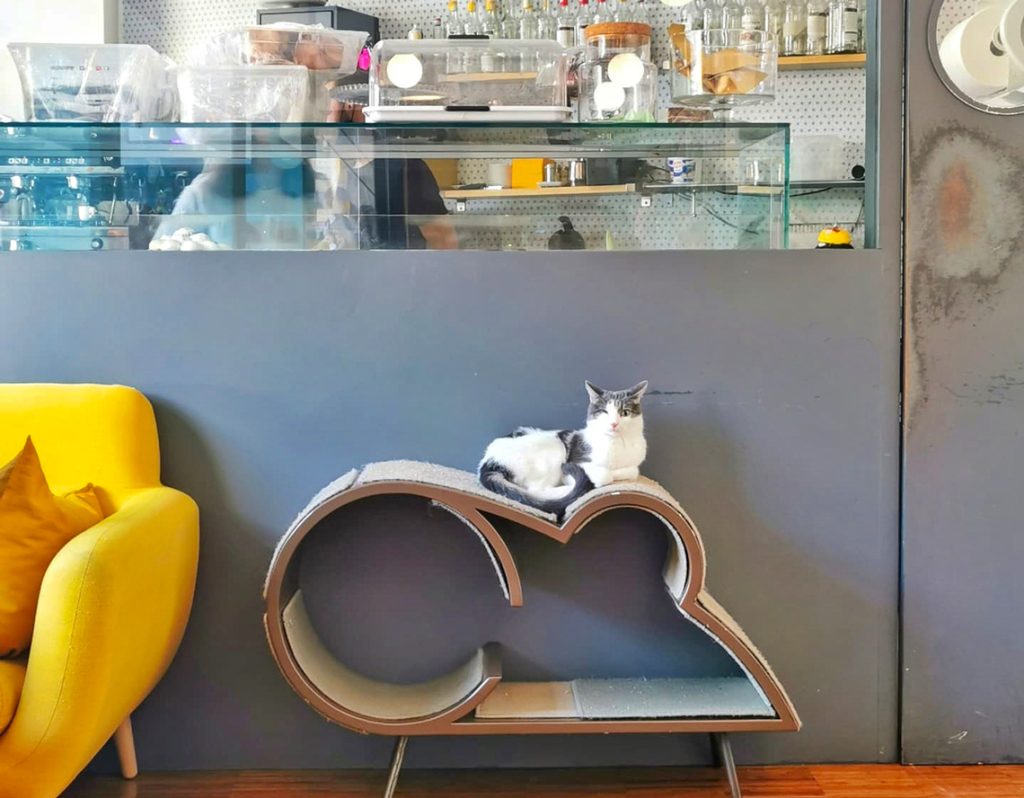 During weekends the place is popular for its brunch with quality products and vegan or vegetarian options and also for its tasty appetizers, delicious coffee and homemade desserts.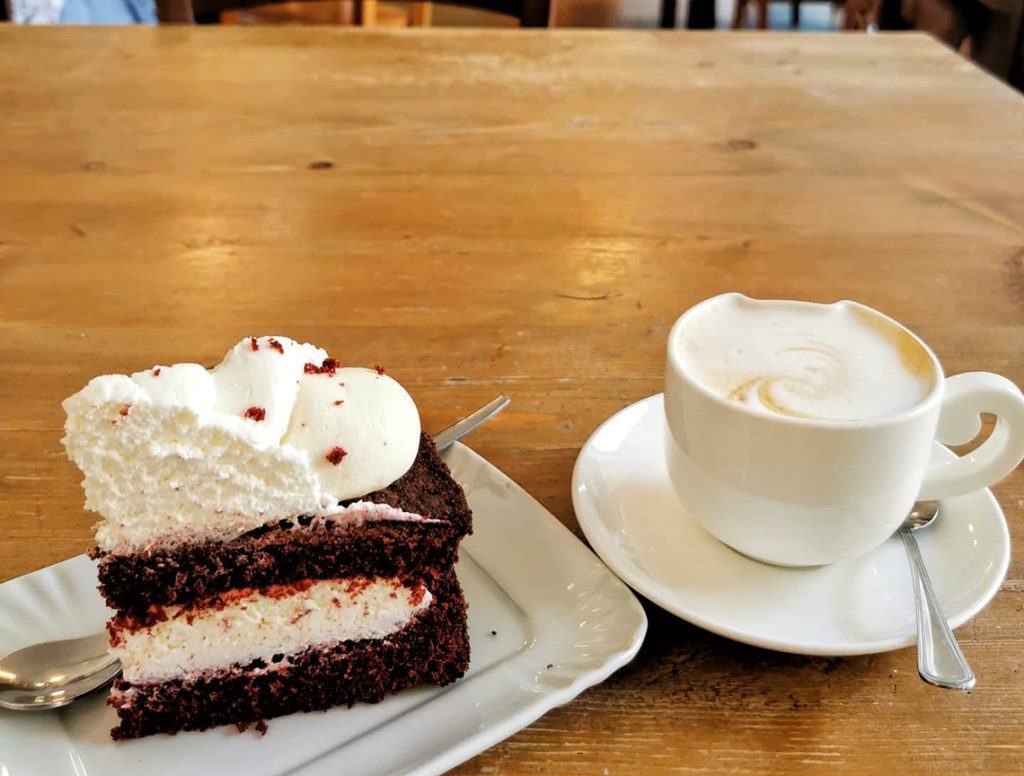 Crazy Cat Cafè: Via Napo Torriani 5, Milano
Risoelatte for Grandma's kitchen
It is a small family-run restaurant in Milan, moreover very good, where the time like stopped fifty years ago.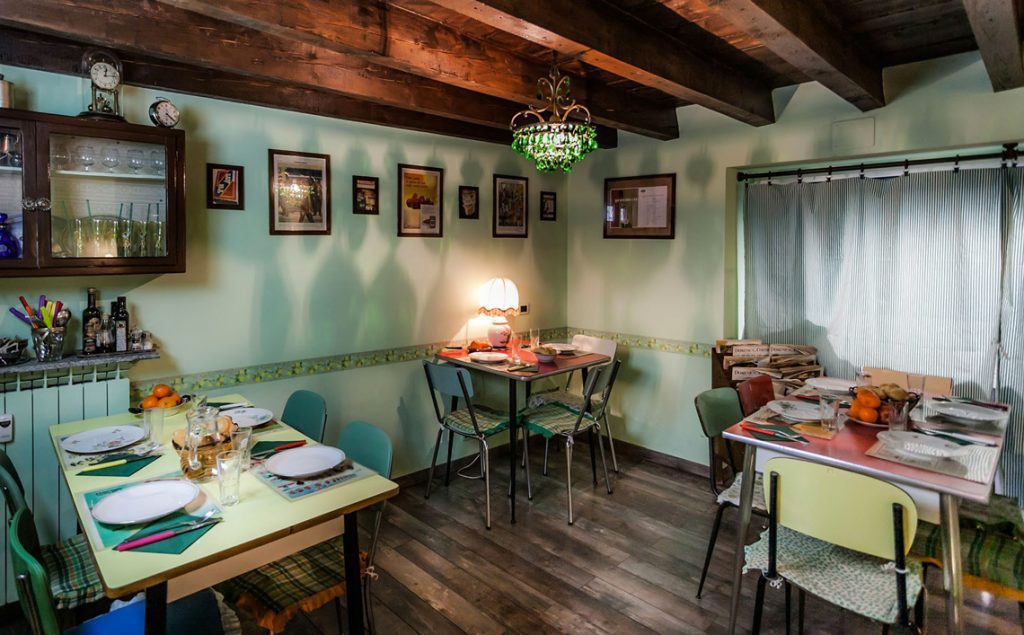 The food is homemade and tied to the traditions, those dishes unlikely to be found in sophisticated restaurants that depopulated in the city.
Depending on the season, you can enjoy risotto with saffron and ossobuco, veal with tuna sauce, grilled swordfish, lasagna or the legendary Milanese cutlet.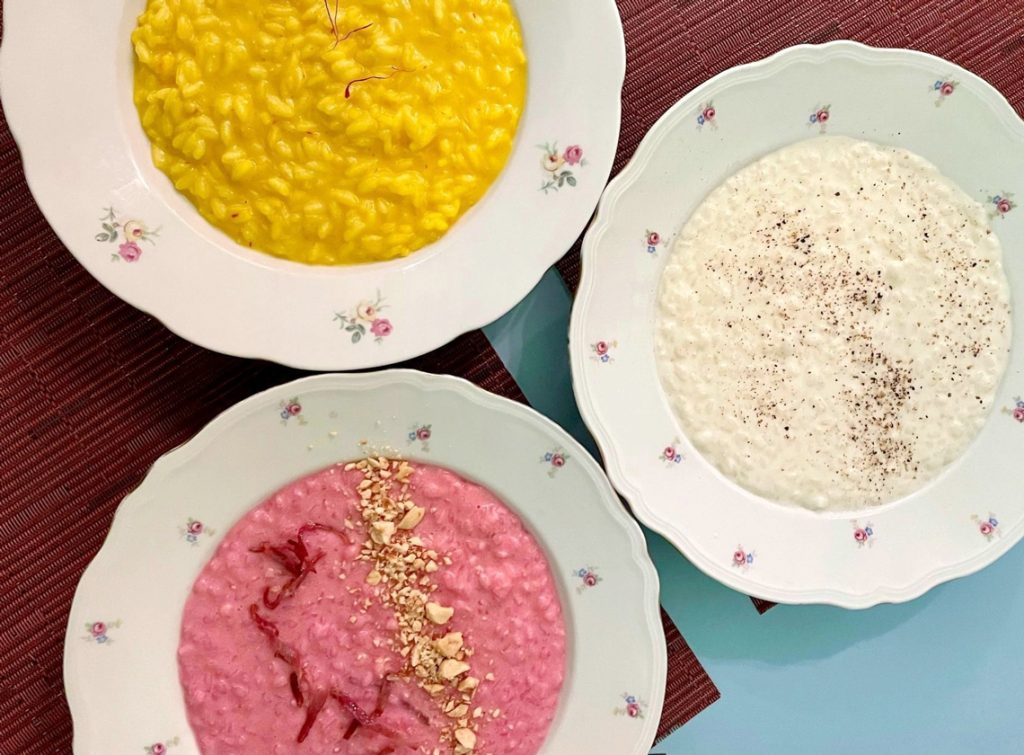 Risoelatte is spread over three levels and the feeling is a bit to enter the someone's house particularly fond of retro atmospheres.
Decor is atmospheric, with Formica tables, set up with red and white checked tablecloths, pastel green walls, a pantry full of pots with oil, jars and tea services even the clothes stretched between one floor and another.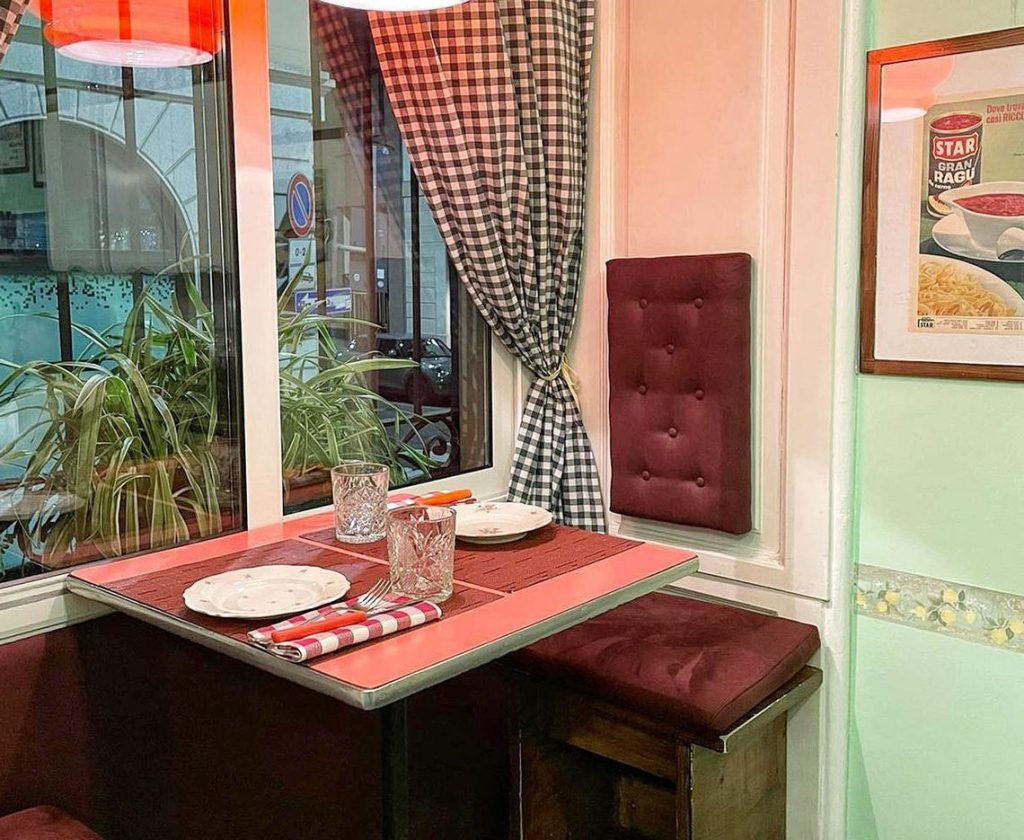 Need to be experienced personally to understand 😉
Risoelatte: Via Manfredo Camperio 6, Milano
Tranvai for an aperitif in the historic tram
A tram that is also a bar but no longer on the rails, named "the Tranvai in Martesana".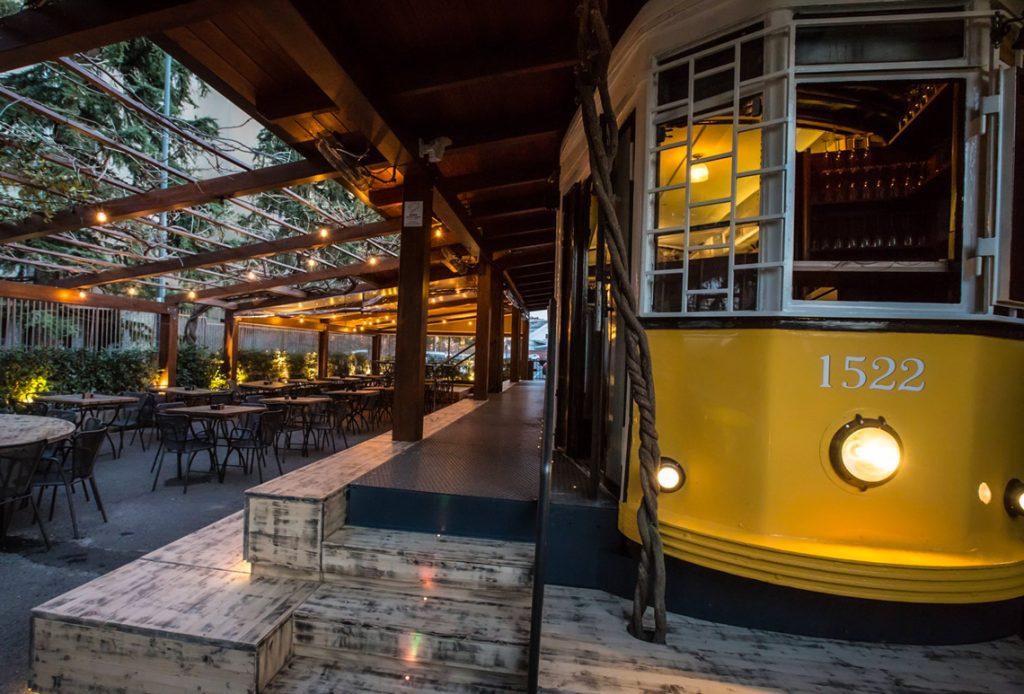 In the park of Martesana the historic tram 1522 of 1928 was transformed into a bar with a large outdoor summer dehors open for aperitif or a light dinner with sandwiches, burgers or cutting boards with various specialties rustic and genuine.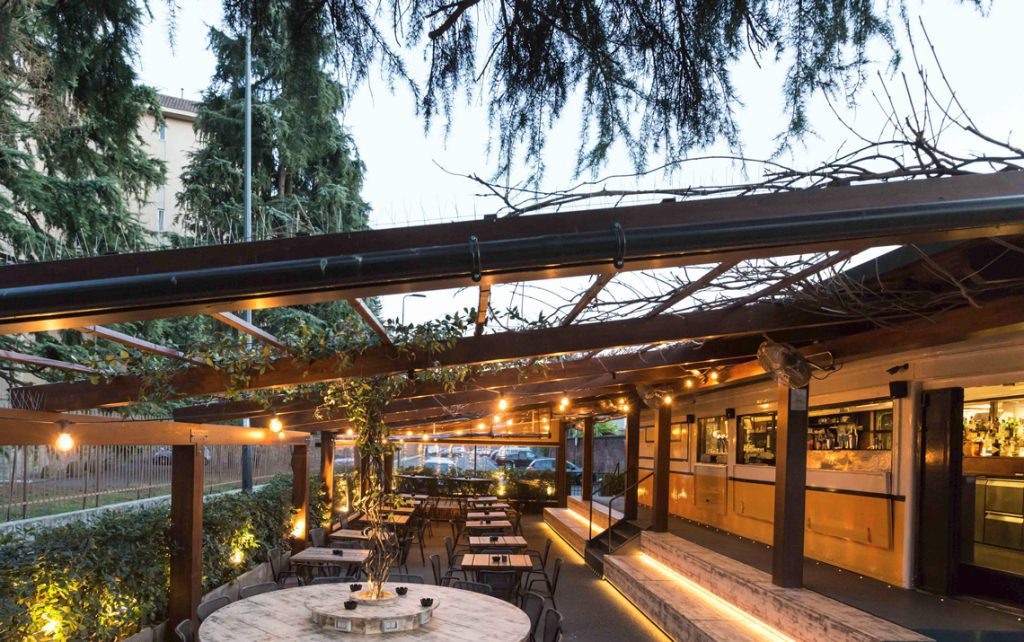 Good to know: 75 places are available in the dehors so the reservation is mandatory.
Tranvai: Via Tirano c/o Naviglio della Martesana Angolo
Rabbit Hole bar for a tea room inspired by Alice in Wonderland
Would you ever think to come across the lair of the White Rabbit by walking through the streets of Milan?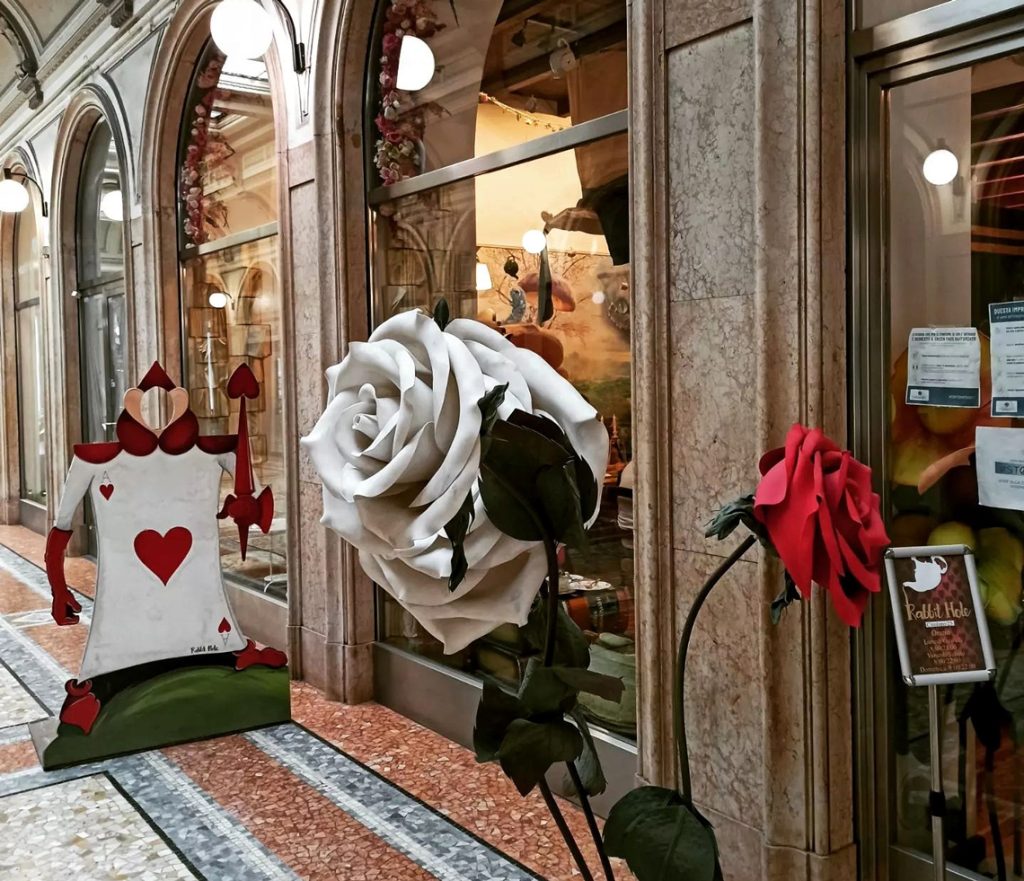 A tea room "the Rabbit Hole", inspired by Alice in Wonderland, was recently inaugurated. Each room is inspired by the novel by Lewis Carroll: you find that of Cheshire Cat, the Queen of hearts, the Mad Hatter and the Alice's garden.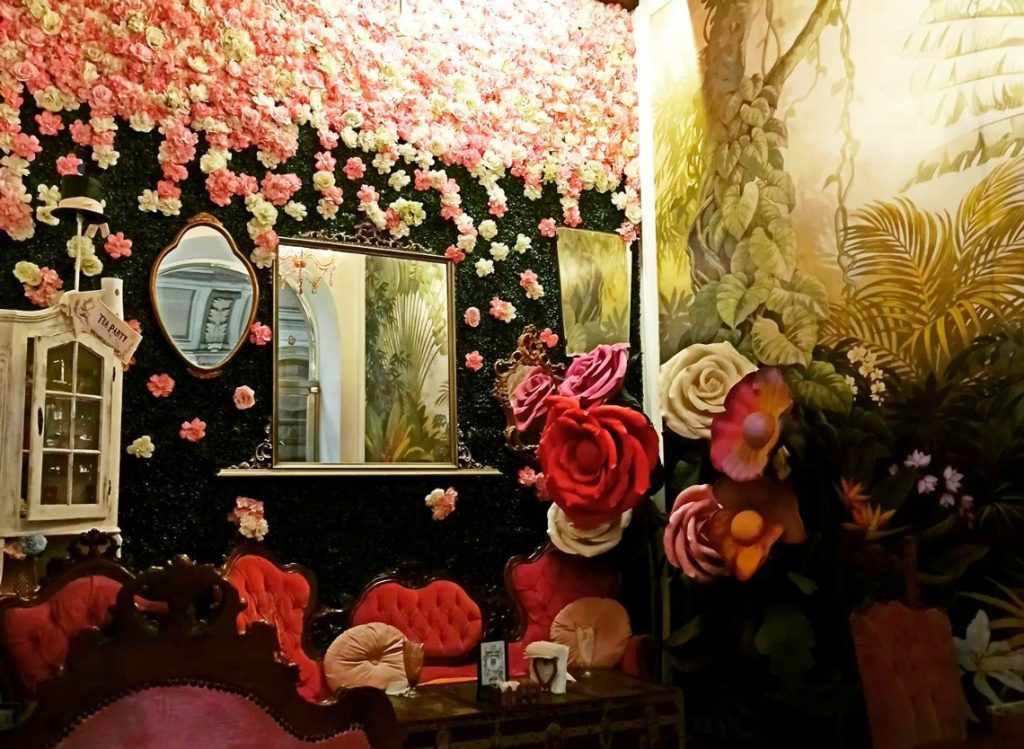 There is also an outdoor area where you can sip some good pink tea. Here you will find hot chocolate, cakes (cheesecake, red velvet, kit kat, double chocolate, etc.), teas, infusions and cappuccinos. For aperitif time the bar offers drinks and non-alcoholic drinks.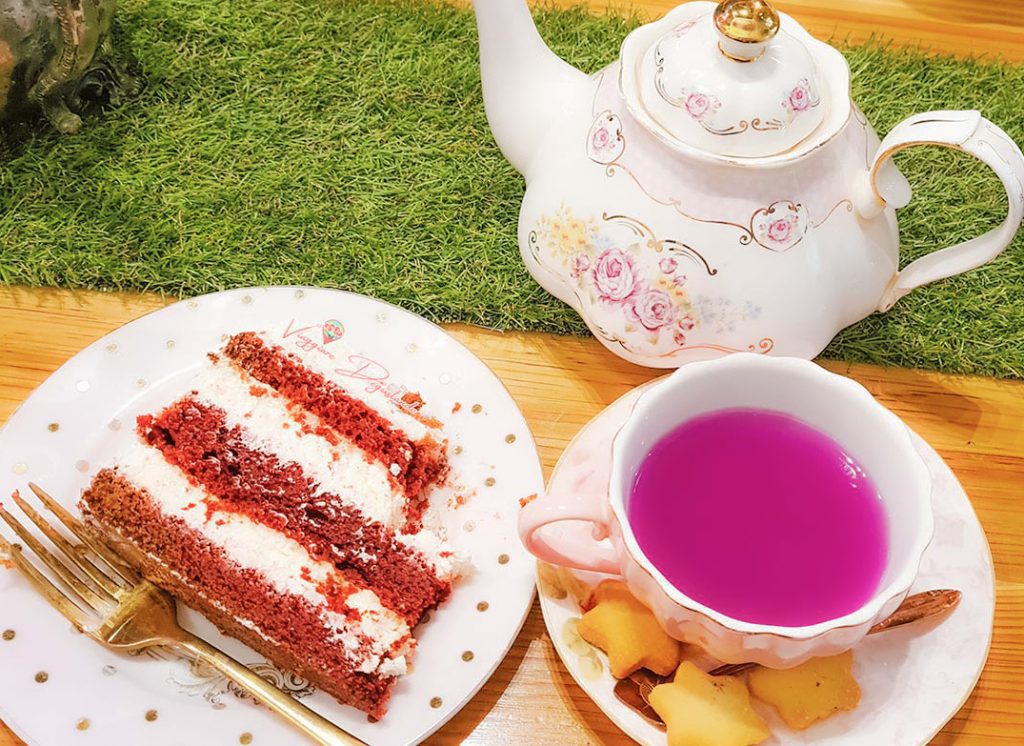 The restaurant also organizes private parties: birthdays (children and adults), hen or graduations parties, and tea tastings. You can also order a custom- made cake.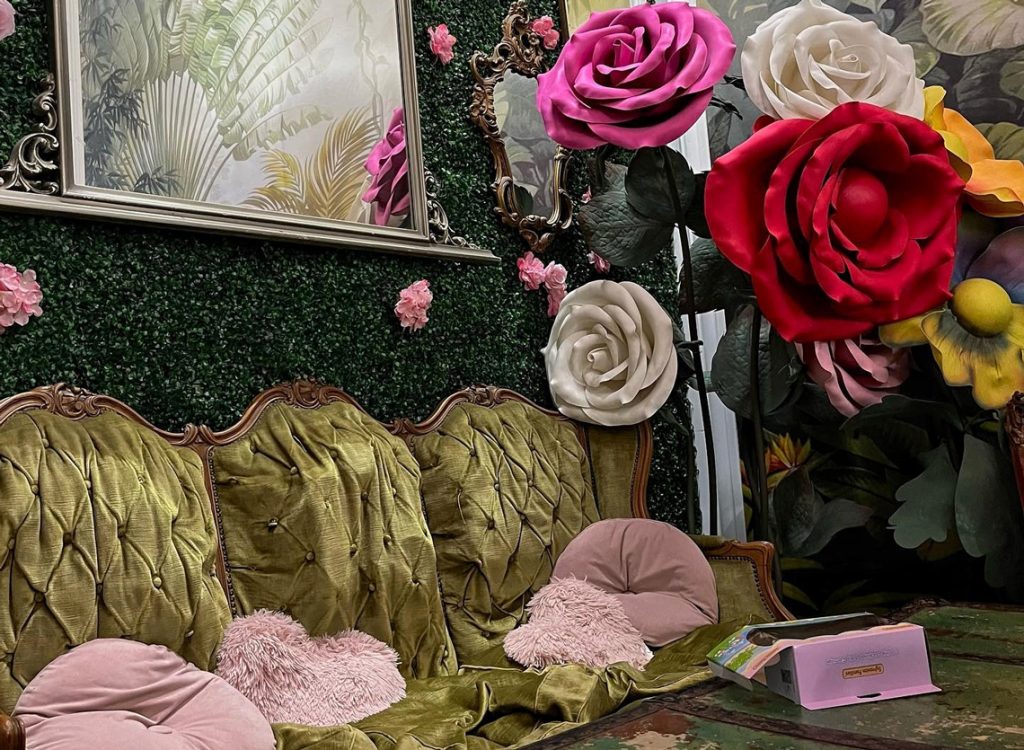 Via Giuseppe Mazzini, 20, 20123 – Milano
Fiuri Milano for a coffee pause among flowers
The essential coffee pause, the scent and colors of flowers that put you in a good mood plus pleasant background music. All this can be found at "Fiuri" in Isola area.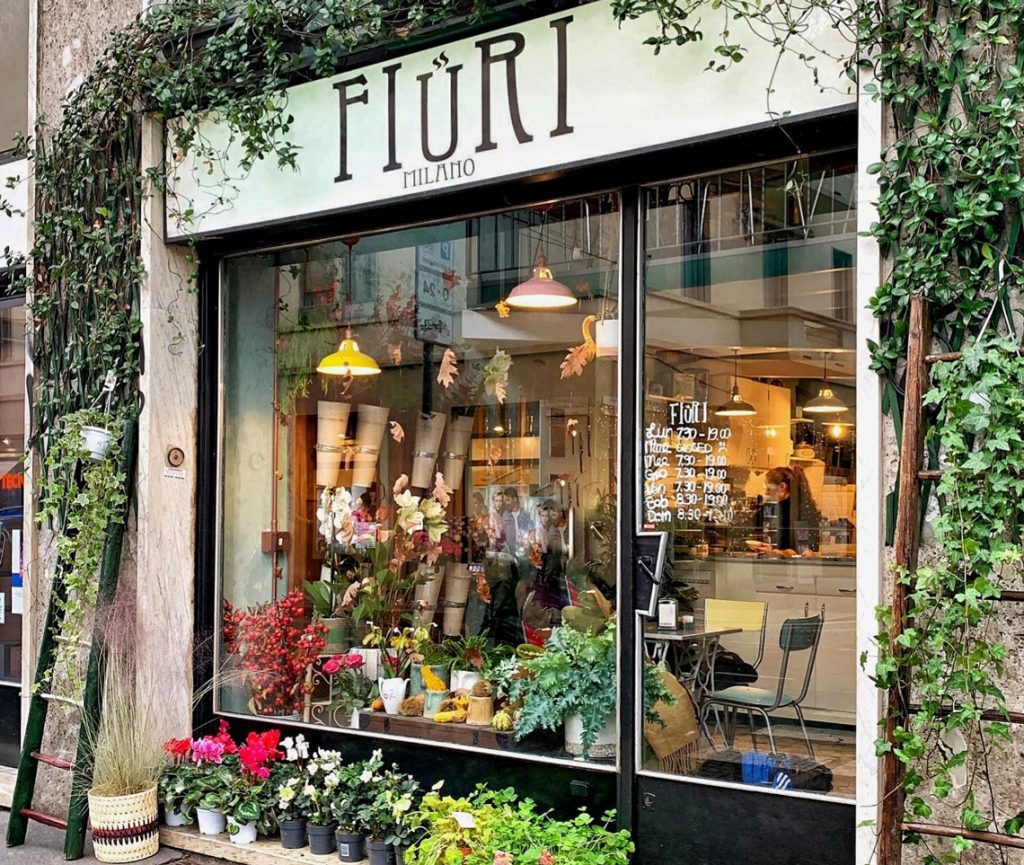 It is about a flower shop that houses a café – or viceversa.
The atmosphere, colorful and with retro details, is relaxing and homely. Moka coffee, slices of cake and other pastry. Choose a bouquet and enjoy your breakfast 😉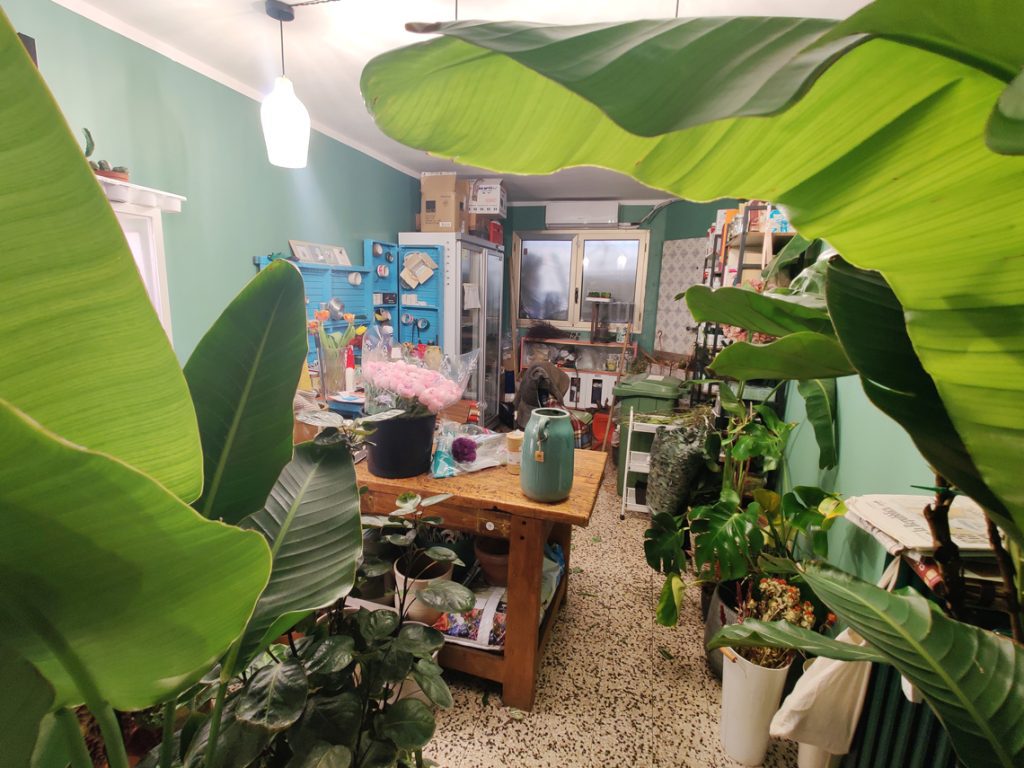 Fiuri Milano – pizza Fidia, Milano
Beda house bar for the lovers of historic settings
Certainly among the strangest restaurants in Milan! From the outside it seems a classic English pub but once inside you will be impressed by the large room set up.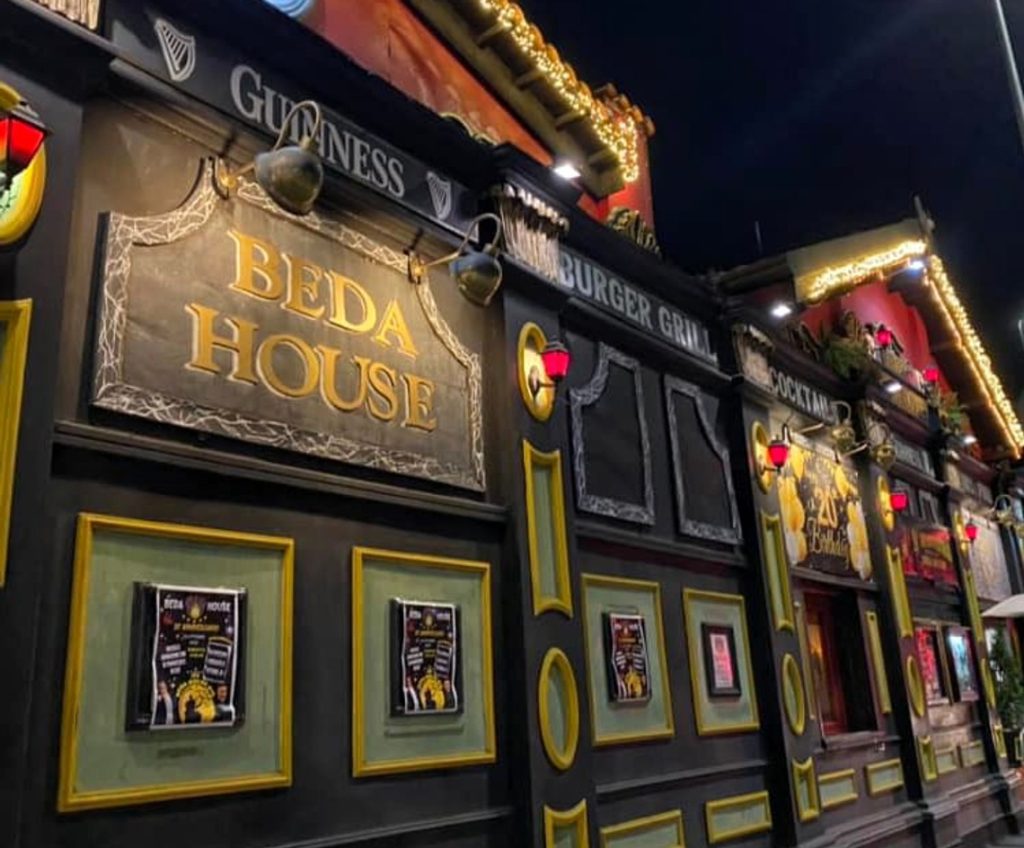 An old mine with wooden beams and rocks but also a room that recalls a gothic church with sculptures, arches and columns. Like on the set of a movie!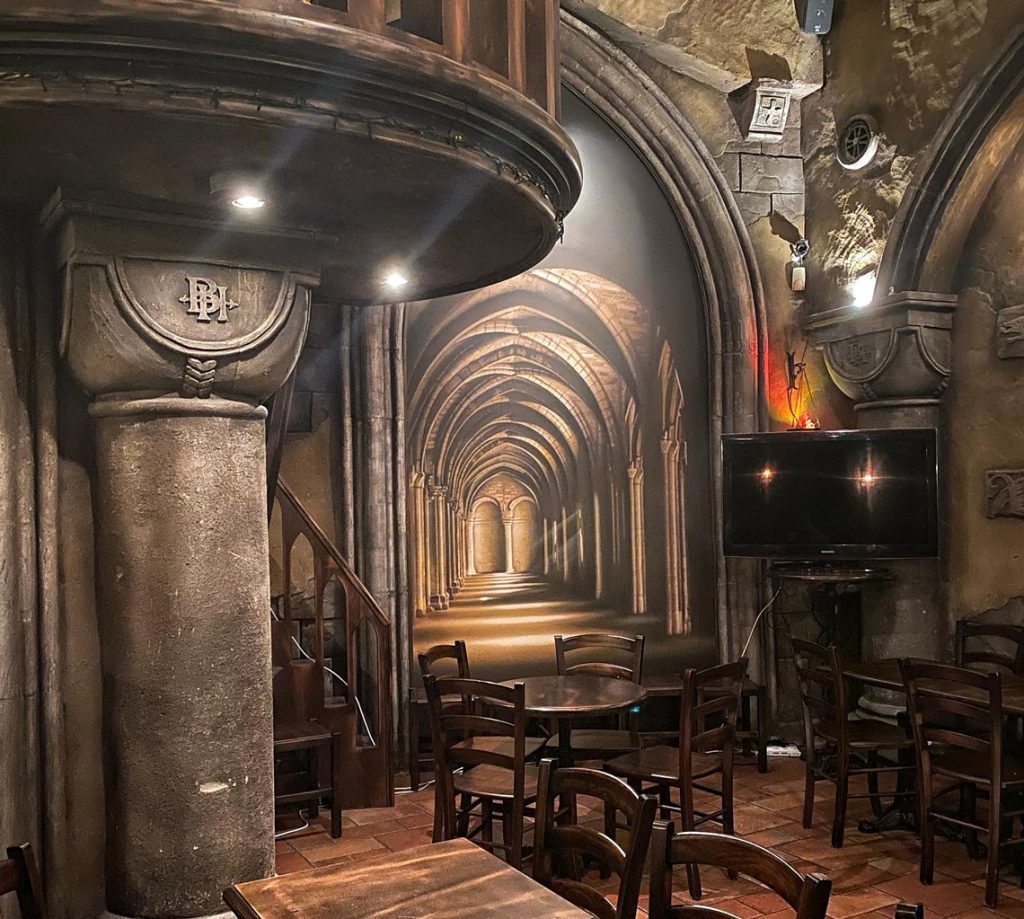 Beda House – Via Gioacchino Murat, 2, 20159 Milano MI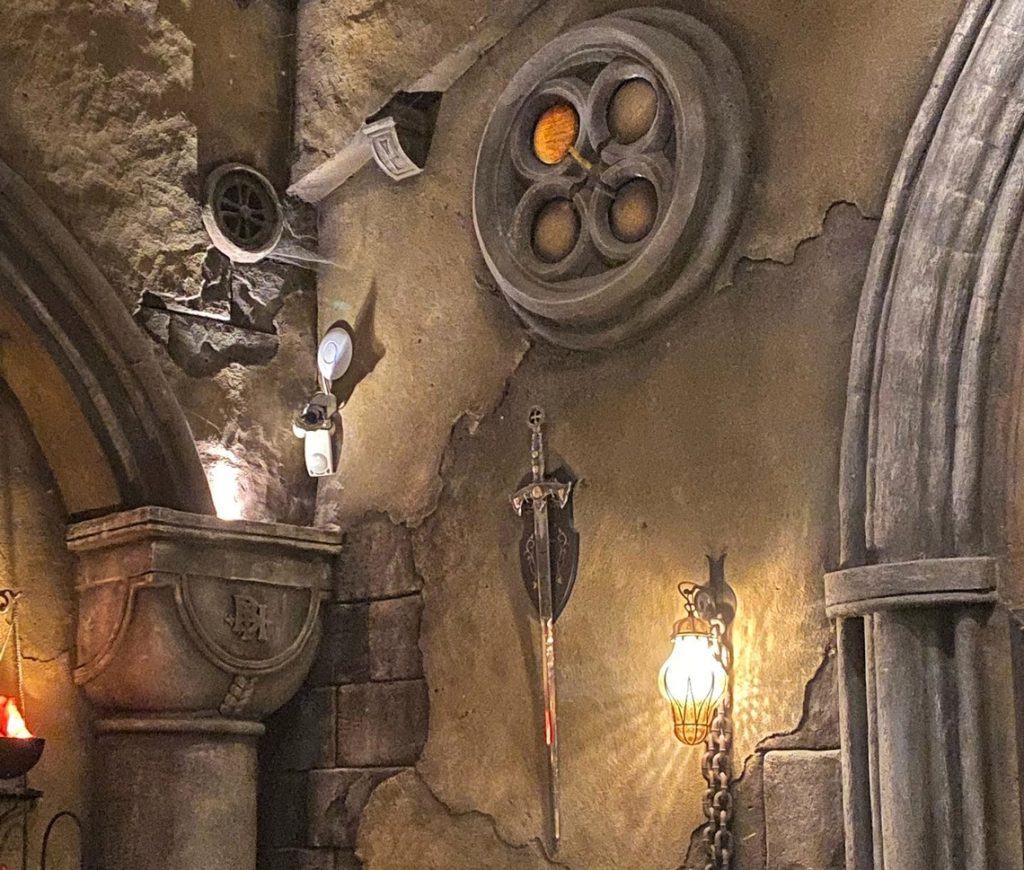 Bar Luce for a cinematic look
Bar Luce, designed by the director Wes Anderson who wanted to recreate a typical cafe of the old Milan, has been one of the most instagrammed places in Milan in the last years. It seems to be on the set of a movie in the fifties!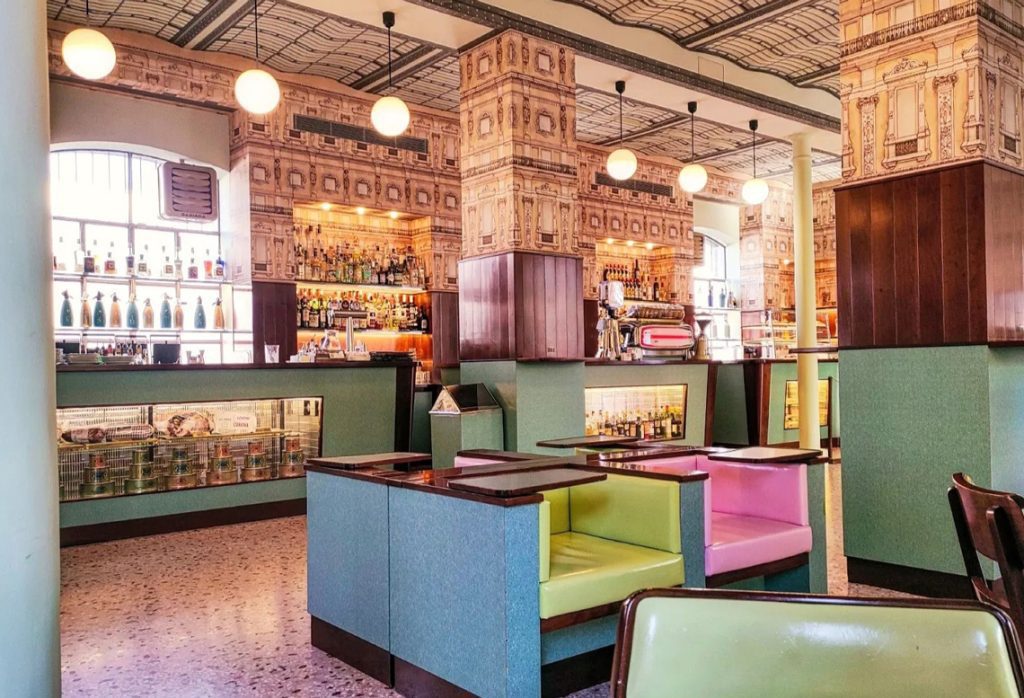 There are furniture in formica, old pinball machines, glass jars full of candy, the ceiling that recalls that of the Galleria Vittorio Emanuele, pastel colors and lights of course. The bar proposes a transversal offer throughout the day, from breakfast (with sweets from the Marchesi pastry shop) to a quick lunch (with cold cuts, cheeses, pickled oil and canned goods), to an aperitif.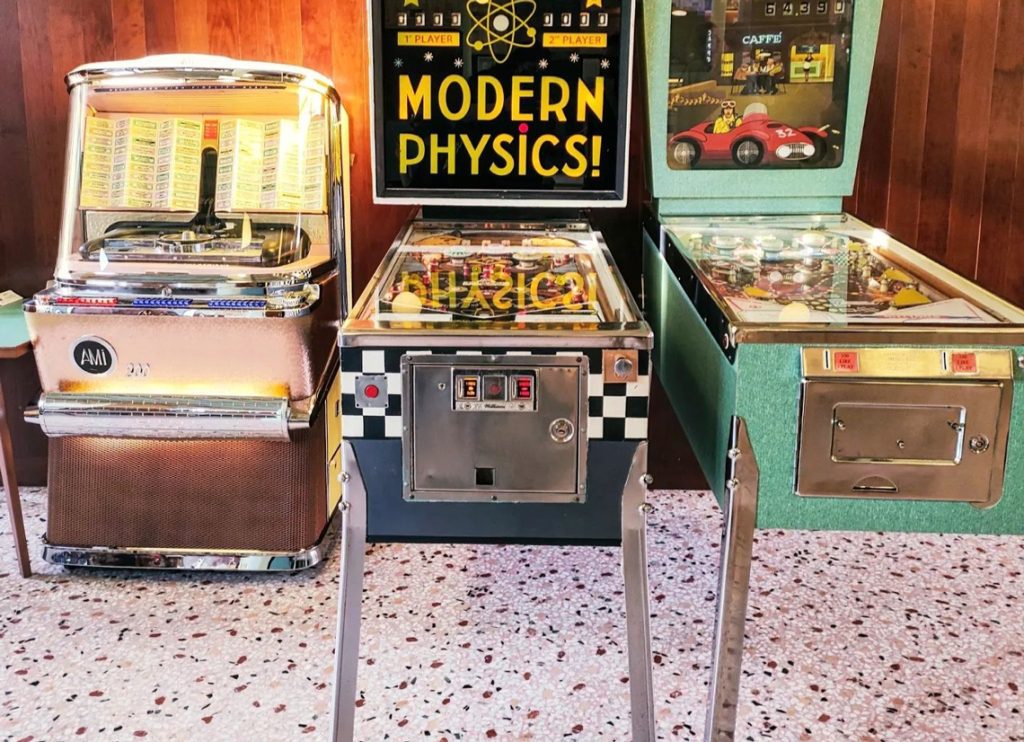 Bar Luce is located inside Fondazione Prada, a museum/gallery dedicated to the creation of art exhibitions as well as cinema, photography, philosophy, dance and architecture projects.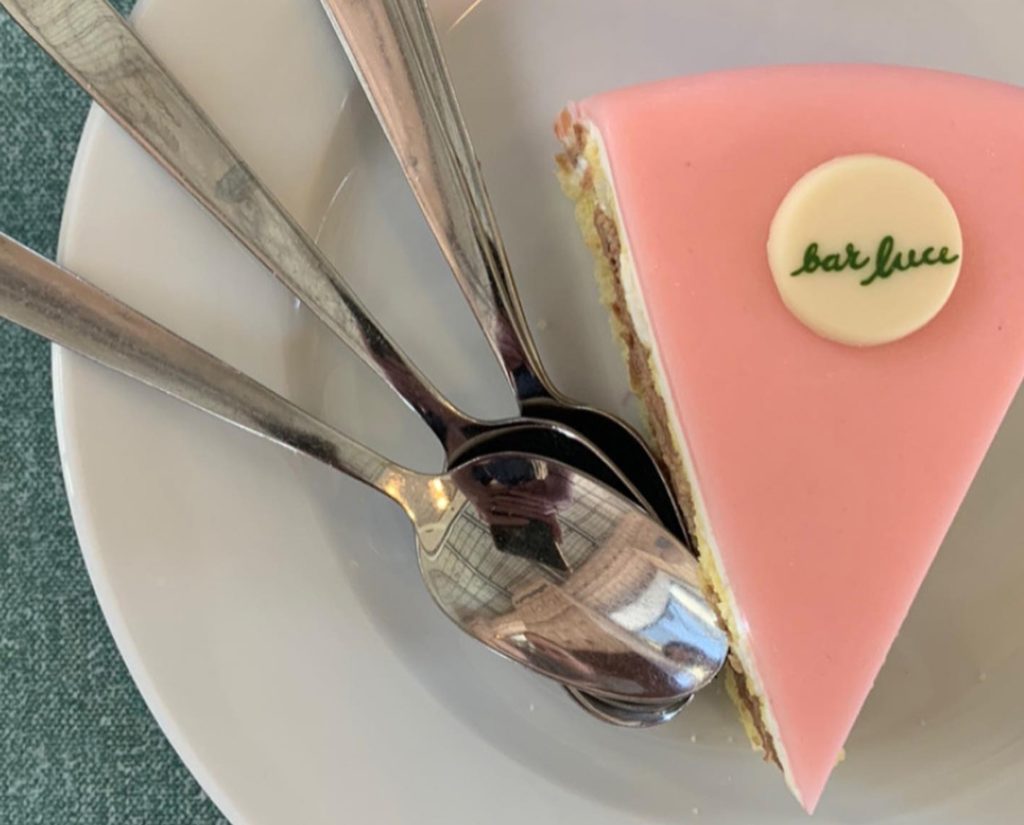 Bar Luce: L.go Isarco, 2, 20139 Milano MI
ATMosfera an exclusive dinner on tramlines
One of the most romantic restaurants in Milan, ATMosfera is the restaurant-tram for a very special evening where in you can savour delicious food and sipping good wine while having different panoramic views.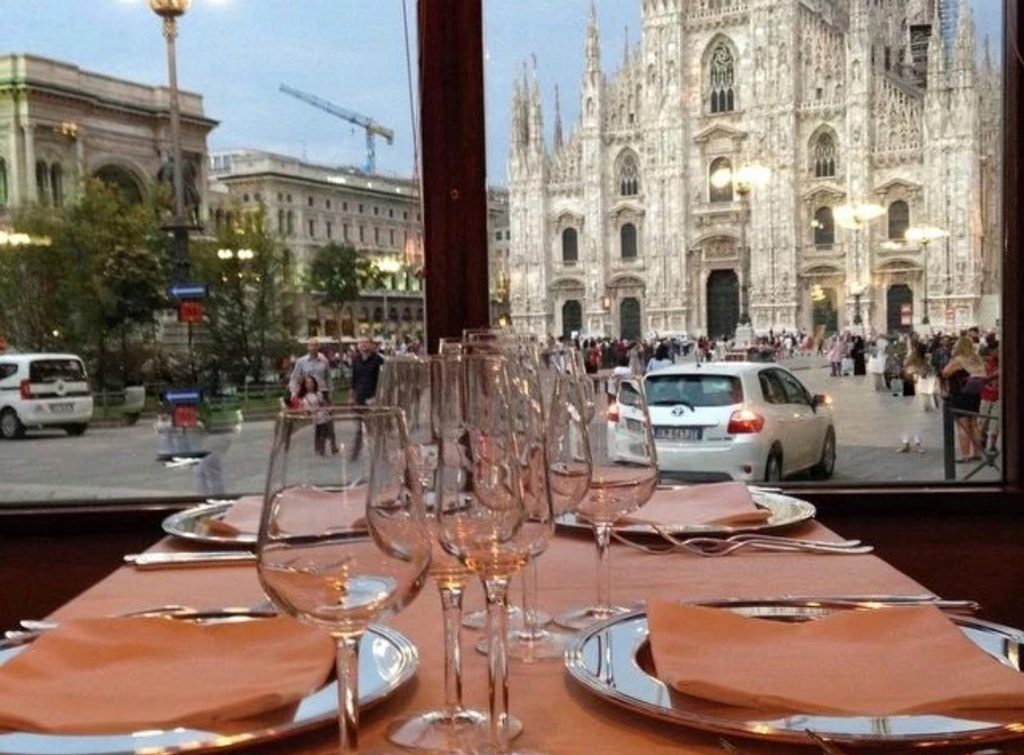 On board the tram, totally renovated and transformed into a very elegant living room, the dinner will have a totally unique taste. Three menus to choose from: typical Milanese meat, vegetarian or fish menu. With 24 seats, the tram is equipped with everything from wardrobe to bathroom.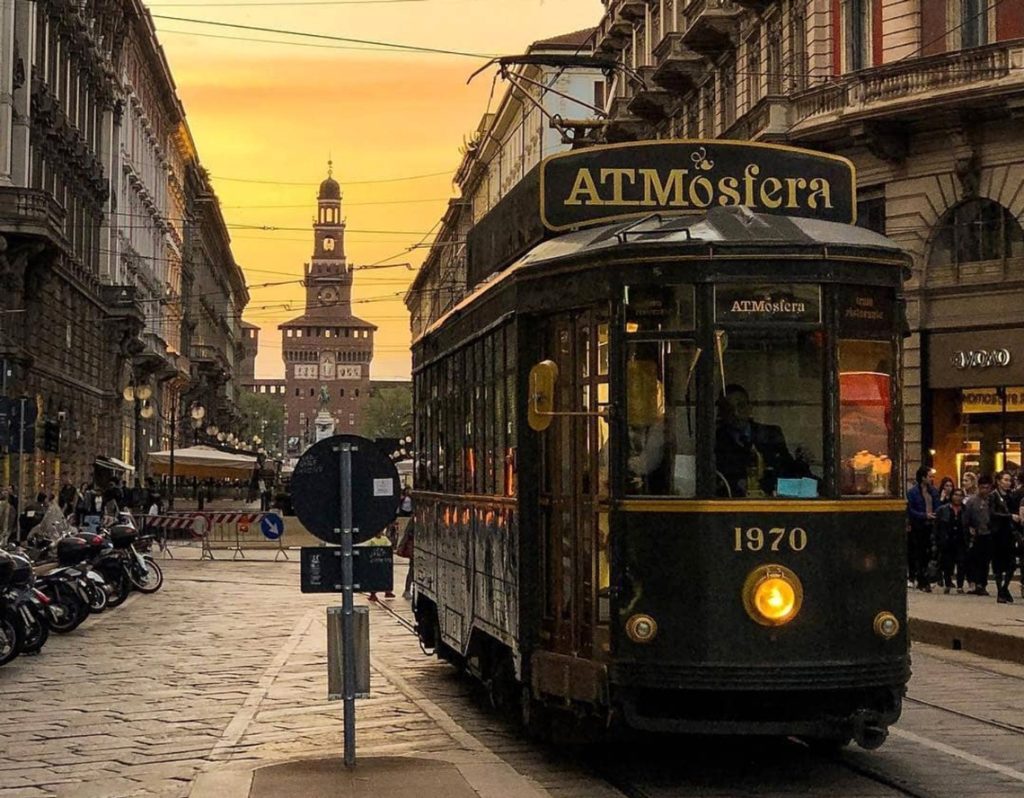 Booking is essential! Official website