In the deep north of Lombardy, about a two hour drive from Milan, there is a valley that collects a perfect mix of scenic wonders, nature and traditions.
Valtellina is located on the river Adda to the East side of Lake Como and is a perfect destination for a weekend getaway. The landscapes are breathtaking, there are lakes, spas and of course tasty food with good wines. During one of my excursions I ran into a small town above Morbegno that hides the Europe's highest Tibetan bridge: Il Ponte nel Cielo of Val Tartano (The Sky Bridge of Val Tartano).
Are you brave enough to cross it?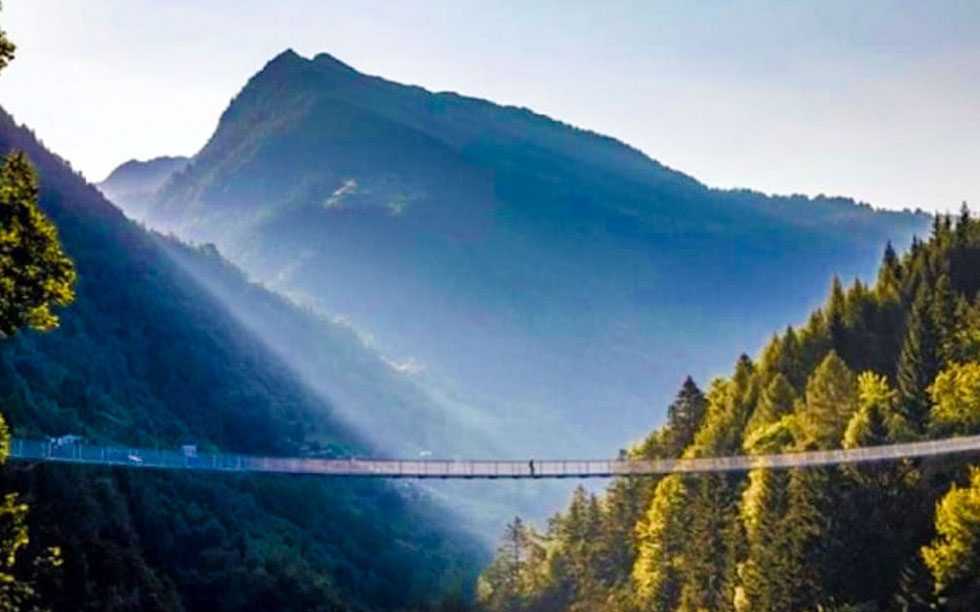 The suspension bridge, 234 meters long and 140 meters high, connects Campo Tartano to Frasnino (located at 1,039m above sea level). From there you will find different trails for trekking and mountain walks. Landscape photos speak alone!
In autumn period, among other things, nature gives a double show, the mountains are starting to tinge with a thousand shades of yellow and red while on the peaks the first snow is falling.
To tell the truth, I'm really scared of heights but I really give it to stare down my fears.
During the first steps I feared the worst since the bridge is moving a bit under your feet. When in the middle it is like being suspended in the air! However, the relief that comes after, accompanied with a feeling of power, is phenomenal!
Trust me, it's worth to have the opportunity to admire this wonderful scenery. The view goes through the mountains of Lombardy, on the valley of Tartano and Como Lake.
The Sky Bridge is open every day from 9.30 to 16.30 (on Saturday until sunset), tickets cost 5€. Free entrance fo the children up to middle school.
Buy tickets online
It's important: during the weekend in order to access the bridge tickets must be bought exclusively online.
The Sky Bridge can be reached by car from Milan in about 2 hours, following the main way 36 (Strada Statale 36) of Lake Como and Spluga up to Colico, where you then have to take the SS38. Follow directions for Val Tartano, along the SP16 and finally the SP11 with which, after a series of hairpin bends, you will reach Tartano. The path that leads to the bridge starts from Via Costa in Campo Tartano.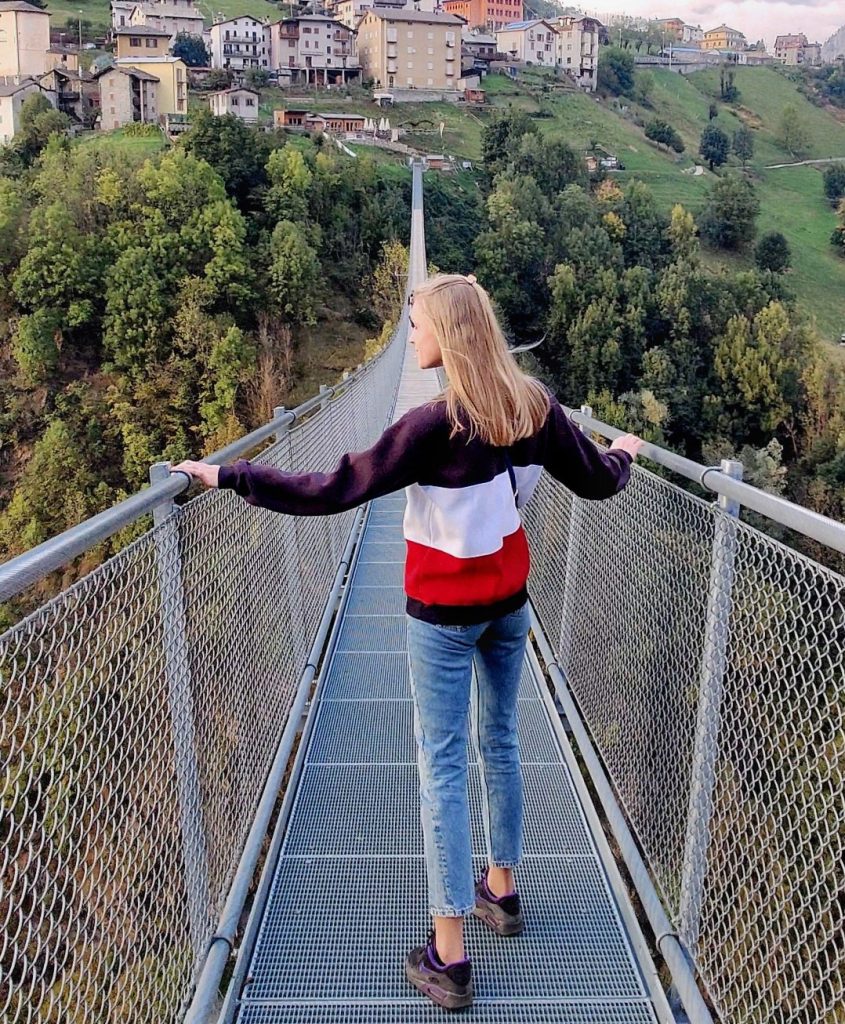 What to taste after visiting the Bridge
Valtelinese cuisine should not be missed in this unforgettable experience. I had lunch at the historical mountain farmhouse Le Case dei Baff.
Excellent local cuisine in warm and welcoming atmosphere, the restaurant offers different types of typical mountain dishes: tagliatelle with venison sauce, pizzoccheri, delicious cheesecakes made with goat cheese and berries, homemade tiramisu, a delicious zuccotto and even an original ice cream Braulio! All the ingredients are produced by themself with a farm-to-table criteria, always authentic and genuine.
There is also the opportunity to buy products within the farm.
Not last, the scenery is beautiful in all the seasons and the bridge can be crossed even in winter. Enjoy! 😉